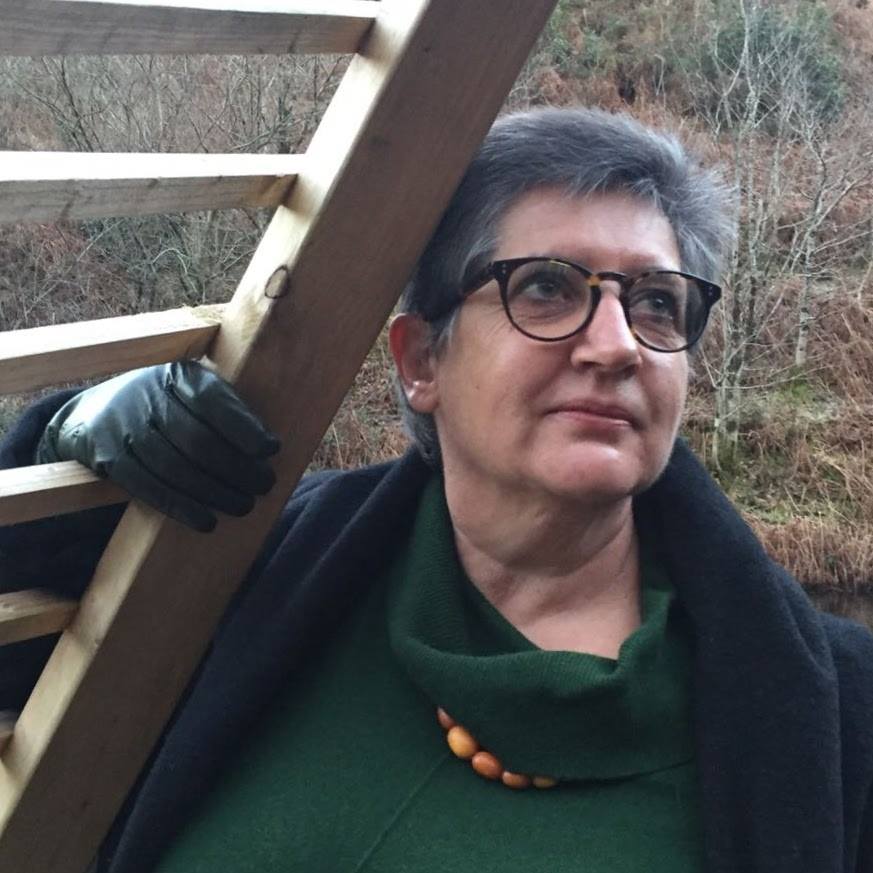 I am made of stone

I am made of stone.
Blue dolerite with feldspar
shards from Pembrokeshire hills,
indigo slate from Conwy quarries,
black anthracite, hand-hewn.

I am made of stone.
Burren limestone, its grikes
harbouring jewel plants,
letting water seep, cry
tears through fissures
that drip, drip, stalactiting
down, catching minerals
like letters, that flavour
words on the page,
colour poems in the dark.

I am made of stone.
Not to be rolled, not cold,
part of the Fennoscandian shield
crystalline, metamorphosed.




Estoy hecha de piedra

Estoy hecha de piedra.
Dolerita azul con feldespato
fragmentos de las colinas de Pembrokeshire,
teja índigo de las canteras de Conwy,
antracita negra, tallada a mano.

Estoy hecha de piedra.
Caliza de Burren, sus lapiaces
donde cuelgan plantas como joyas,
dejando que el agua se filtre, que llore
lágrimas a través de sus fisuras
ese goteo, goteo, estalactizando
subterráneamente, atrapando minerales
como letras, ese sabor de
palabras en la página,
poemas de colores en la oscuridad.

Estoy hecha de piedra.
No para ser rodada, no en frío,
parte del escudo fenoscándico
cristalino, metamorfoseado.




Europa

Their statue rises before me.
Town hall gallery light
torrents across the tiles,
spirals, seeps into bronze.

The bull that had stamped,
pawed the ground, ground
the sand where blue pooled,
is knuckled now.

His horn, which had once
fondled kelp filaments
in sea shallows, rests,
alert, waiting her call.

She has been lifted
up atop the bull,
poised, no longer
in submission

for her points of touch,
fingers, knee, ankles
hold him as she reaches
strength and spirit north, west
from a Mediterranean shore.

Her right hand on
his arching tongue,
where caress conquers grip.

Her feet in the sculptor-smoothed
furrows of his flank,
where embrace triumphs tenure.

The scalloped wave
where once she had played
billows now from her shoulder
from hurricanes to zephyrs,
breaths of safety.

Her lands of forests, lakes,
islands, mountains, coasts
from Baltic to Atlantic are ready.
Ready, ready,

for beauty will save the world,
it will start with loving someone.




Europa

Se alza ante mí su estatua.
La luz de la galería del ayuntamiento
se derrama por las baldosas,
en espirales, filtrada por el bronce.

El toro esculpido
patea la base, un suelo
donde la arena se entrevera de azul,
dejando allí sus nudillos impresos.

Su cuerno, que antaño
acarició filamentos de algas marinas 
en aguas poco profundas, descansa,
alerta, esperando la llamada.

Ella ha sido colocada
a horcajadas,
por fin, nunca más
sometida

unida por algunos puntos,
dedos, rodilla, tobillos
ella le sujeta mientras acopia
fuerza y ​​espíritu norte, al oeste
de una costa mediterránea.

Su mano derecha sobre
la lengua arqueada,
donde la caricia vence a la garra.

Sus pies en la escultura como surcos
grabados en sus flancos,
allí donde el abrazo derrota a la ternura.

La ola festoneada
donde una vez ella había jugado
asoma ahora desde su hombro 
cual de huracanes y de céfiros,
de sus alientos protectores.

Sus tierras de bosques, lagos,
islas, montañas, costas
del Báltico al Atlántico ya prestas.
Prestas, prestas,

porque la belleza salvará al mundo,
y se ha de comenzar siempre amando a alguien.




Oyster Shell

When I got to the beach
at what felt like the end
of the east coast world

cruise and container ships
carried and craned their cargo
across the grey North Sea.

I found a dune-slacked spit of land
hosting yellow-horned poppy;
sea plants- holly, campion, pea.

Waves on a shingle ridge
dashed pebbles and shells,
clattering applause in
the receding wash.

The world, a jagged white of
calcite peaks and troughs,
hinged itself around me;
a cream satin inside
showing me grit.




Concha de ostra

Cuando paseo por la playa
en lo que siento como el final
de la costa este del mundo

cruceros y contenedores
transportan y dejan su carga
a través del gris Mar del Norte.

Me topo con una tierra bañada de las dunas
cordón litoral de amapolas amarillas;
plantas marinas: cardos, borbonesas, titarros.

Olas como una cresta de tejas
guijarros y conchas,
estruendosos aplausos en
el agua que lava y retrocede.

El mundo, un blanco irregular de
picos y valles de calcita,
que se articulan alrededor de sí;
un satén crema en el interior
como el coraje en la grava.




Svansjön

We went that morning
after the first perched frost
had melted, drip-dripped
from rooves and gutters.
Autumn weeping as it
called back summer.

Wrapped in angora hats
concealing cygnet plumage
against soul-rasping air,
we stirred dry leaves,
caught falling stars of
silver birch and copper beech.

The lake mirrored trees,
reeds along its shore.
We trod a wood-board
platform to the centre's rim
where children swam
and birds glide free.

Thumping our boot-steps
we vibrated peat-black
water. Clear images
quivered, churned green.
Shadow-echoes lapped,
percussing the quiet.

We laughed, talked, teased,
grew drunk on rose-scented
air, berries, and lichen-light.
We shared words, lines, lives,
shed tears, kisses, loves
until the ripples smoothed.

We stood poised, our toes
like claws curled on the edge.
Swans we rose from the chill
of uncertainty. Women wilded,
we flexed our wings, scooped up
air, and our future returns.




Lago de los cisnes

Fuimos esa mañana
después de la primera helada
todo se había derretido, solo un goteo
de techos y canalones.
Otoño llorando como el
llamado verano tardío.

Envueltos en sombreros de angora
ocultando el plumaje de polluelos de cisne
contra el aire rasposo del alma,
removimos hojas secas,
atrapamos estrellas fugaces de
abedul plateado y haya cobre.

El lago reflejaba los árboles
y juncos a lo largo de su orilla.
Pisamos una tabla de madera
plataforma al borde del centro
donde nadaban los niños
y los pájaros se deslizaban libremente.

Sintiendo nuestros pasos 
vibramos en la turba negra
de agua. Imágenes claras del
temblor, verde agitado.
Ecos de sombras y lamidos,
percutiendo el silencio.

Reímos, hablamos, bromeamos
me emborraché con perfume de rosas
en el aire, bayas y claridad de liquen.
Compartimos palabras, líneas, vidas
vertimos lágrimas, besos, amores
hasta que las ondas se atenuaron.

Nos quedamos así, nuestros dedos de los pies
como garras enroscadas en el borde.
Cisnes que nos alzamos del frío
de la incertidumbre. Mujeres marchitas
que plegamos nuestras alas, recogimos el
aire, y esperamos nuestros futuros regresos.


Vårtbjörk

Her left cheek
rests on my right
shoulder, as a hand
circles my neck.
The warmth
of her breast
softens my lichen.
Her lips part,
and Freya's breath
puffs motes of moss
in leaf-whelmed woods.
I wonder how she will
know me as she
strokes my branch,
taps my bark,
prizes my butt and burr,
finds fissures,
sounds the hollow;
that void
yearning
to hear calm,
and feel her
brisingamen
at my pulse.




Abedul azul

Su mejilla izquierda
descansa en mi hombro
derecho, como si una mano
rodeara mi cuello.
El calor
de su pecho
suaviza mi liquen.
Sus labios se entreabren
y el aliento de Freya
lanza motas de musgo
a bosques llenos de hojas.
Me pregunto cómo ella
me reconocerá, mientras
acaricia mis ramas,
golpea mi ulular,
dirige mi ir y venir en balanceos,
encuentra fisuras,
retumba en el hueco;
ese vacío
anhelo
para escuchar la calma,
y sentirla
acompasada
a mi pulso.




Prince Caspian

The boy in the Tranås classroom,
who wrote without falter or query,
who moved the strokes of his Persian
voice in silence across the page,
who scribed a story of loss and love,
Afghanistan, his home.

Like Caspian, may he rise us up
from that page, rise us up
alongside him with the wisps,
flicks and kisses of his language
meeting ours in this autumn air.

May his fingers entwine ours,
grasp our hands, hold our hearts
along the braided rivers of his land,
across all oceans, as together
we encircle the hammering grief
of Ankara, Baghdad, Beirut,
Paris




Príncipe Caspian

El niño en el aula de Tranås,
que escribió sin vacilar ni preguntar,
que esculpió los trazos de su voz
persa en silencio a través de la página,
que escribió una historia de pérdida y de amor,
Afganistán, su hogar.

Como Caspian, dejemos que nos levante
de esa página, levantémonos
junto a él con los retazos,
jirones y besos de su lengua
mezclados con los nuestros en este aire otoñal.

Que sus dedos se entrelacen con los nuestros
que agarre nuestras manos, sostengan nuestros corazones
por los ríos trenzados de su tierra,
a través de todos los océanos, como juntos
cercamos al dolor más pulsante
de Ankara, Bagdad, Beirut,
París.



[Poemas de Sound the Hollow (Magnus Grehn Förlag) and Rum Dark Nights (Three Throated Press), traducidos del inglés al español por Aleisa Ribalta]


Mel Perry is a poet who lives on a Welsh estuary. Her poetry is usually inspired by the natural world and specific built environment. She is one of the pioneer of Poems and Pints at The Queens, Carmarthen and of the first exchange organised by the Wales Ireland Spoken Word and Poetry Alliance (WISPA) in 2014. She is also a member of the International Yeats Literary Residency in Tranås, Sweden, September 2015.
Has published Sound the Hollow (Magnus Grehn Förlag) and Rum Dark Nights (Three Throated Press).


Mel Perry es una poeta nacida en el estuario de Welsh. Su poesía suele estar inspirada en la naturaleza y en ambientes y construcciones específicas. Es una de las pioneras y fundadores de Poems and Pints at The Queens, Carmarthen y de los intercambios organizados por Wales Ireland Spoken Word y la Poetry Alliance (WISPA) en 2014. También es miembro de la International Yeats Literary Residency que se concede en Tranås, Suecia.
Ha publicado Sound the Hollow (Magnus Grehn Förlag) and Rum Dark Nights (Three Throated Press).