Janice D. Soderling: A poem of Bo Setterlind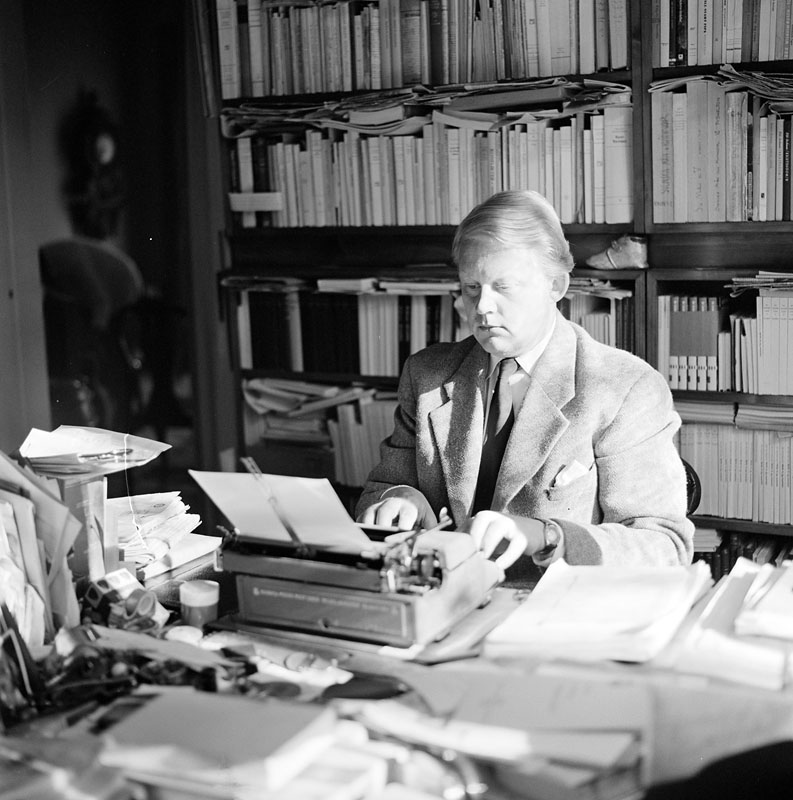 Döden tänkte jag mig så
Det gick en gammal odalman
och sjöng på åkerjorden.
Han bar en frökorg i sin hand
och strödde mellan orden
för livets början och livets slut
sin nya fröskörd ut.
Han gick från soluppgång till soluppgång.
Det var den sista dagens morgon.
Jag stod som harens unge, när han kom.
Hur ångestfull jag var inför hans vackra sång!
Då tog han mig och satte mig i korgen
och när jag somnat, började han gå.
Döden tänkte jag mig så.
How I picture death
An ancient yeoman walked the fields
and sang. He held a well-filled basket
in one hand. The other broadcast seeds.
He sowed between the words
for life's beginning and life's end.
He sowed his basket empty.
He walked from sunrise until sunrise.
It was the last day's morning.
I crouched still as a young hare at his feet;
angst-ridden by the beauty of his song.
He took me up and put me in his basket,
and when I slept, continued on his way.
That's how I picture death.
(Translation into English by Janice D. Soderling)
Bo Setterlind föddes i Växjö 1923 och avled 1991. Fadern var civilingenjör. Han tog studentexamen i Västerås 1944, och studerade därefter vid Uppsala universitet. 1978 blev han belönad med Bellmanspriset.
Bo Setterlind blev på 40-talet känd som en excentrisk romantiker som levde diktarrollen fullt ut. Dikt skulle enligt Bo Setterlind vara vacker, inte social. Samtidigt sökte han gärna upp sin stora publik och deklamerade för den på varuhus och stormarknader. Hans diktning har det geniala infallets naiva omedelbarhet, pendlar mellan mystisk extas och lekfull bildfyndighet. Religiösa ämnen får allt större plats i hans senare, formmässigt allt mer traditionella poesi.
(Ur Litteraturhandboken, Forum).
Janice D. Soderling has published hundreds of poems, translations and short stories, most recently at Autumn Sky Poetry Daily and Light Quarterly; forthcoming at Better than Starbucks.
She is a previous contributor to La Libélula Vaga.