Werner Aspenström: Two poems translated by Janice D. Soderling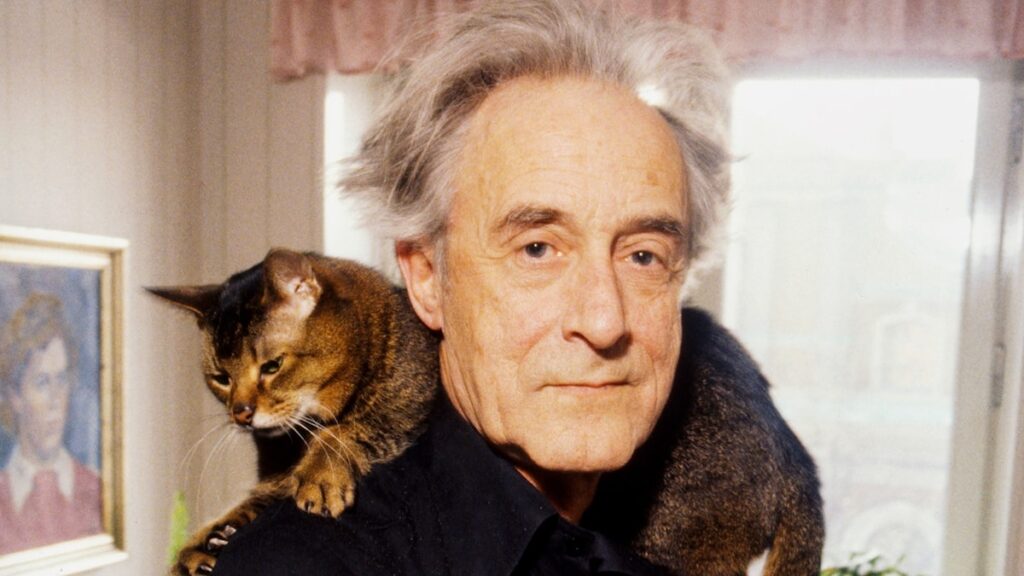 October
The spiders patch their broken webs
—you dawdle in late summer.

But the wind shifts slowly northward;
for the asters too nothing remains but death.

And though the bonfire crackles,
you recognize spring smells of sorrel and black lily-turf.

One morning you are awakened by a barking,
October barking like a shaggy-coated dog.
Oktober
Spindlarna lappar sina trasiga nät
—du dröjer dig kvar i sommaren.

Men vinden vrider sig sakta mot norr,
även för astrarna återstår endast at dö.

Och fastän elden knastrande brinner,
känner du lukten av syra och svart gräs.

En morgon vaknar du vid hundskall:
oktober skäller som en raggig hund.
Love and Death
Things change. The forest lets things change.
Leaves yellow and loosen.
So it goes. They swirl away.
We swirl away. I can't alter that.
The steenbok leaps from ledge
to ledge—the last one
misjudged, who intervenes?
I have never heard the forest reclaim
its yellow leaves. They swirl away.
So it goes.
Ask me for something I can give you: kisses,
a new winter coat, truth.
Ask me for truth.
The one who whispers in your averted ear
is not God,
but your old teddy bear.
It is your memory of granny and forever,
while bumblebees buzz in the linden.
That which pursues me day and night
is not demons,
but a most ordinary death: my own.
We two will not inspire some Euripides
to write a tragedy.
Our love was imperfect,
So why, when it swirls away,
must we go on grasping at each other?
Leaves fall to the ground.
That which for some is a pretty path
is for others a hemorrhage.
On that red expanse, the hart
sets its hoof, the hare its paw.
Together we loved the tree,
but the tree lets us live,
lets us die. So it goes.
I can't alter that.
So it goes.
Kärleken och Döden
Det sker. Skogen later det ske.
Löv gulnar och lossnar.
Det är så. De virvlar bort.
Vi virvlar bort. Det är så.
Jag kan inte ändra det.*
Stenbockens språng från avsats
till avsats – det sista,
felavvägda, vem ingripar?
Aldrig hörde jag skogen återkräva
sina gula löv. De virvlar bort.
Det är så.
Begär något jag kan ge dig: kyssar,
en ny vinterkappa, lögnlöshet.
Den som viskar i ditt bortvända öra
är inte Gud
utan din gamla teddybjörn,
det är minnet av mormor och evigheten
under en humlesurrande lind.
Det som dag och natt förföljer mig
är inte demonerna
utan den vanligaste döden: min egen.
Om oss två ska igen Euripides
författa ett sorgespel.
Ofullkomlig var vår kärlek,
men borrvirvlande
skall vi ännu gripa efter varandra.
Blad faller till marken.
Det som för några är en vacker stig
är för andra en blodstörtning.
På det röda täcket sätter hjorten
sin klöv och haren sin tass.
Tillsammans älskade vi trädet,
men trädet låter ss leva,
låter oss dö. Det är så.
Jag kan inte ändra det.
Det är så.
Werner Aspenström föddes 1918 i Norrbärke i södra Dalarna och avled i januari 1997. Han tillhörde den svenska litteraturens 40-talsgeneration och blev under 80-talet en av våra mest lästa lyriker. Efter studier på universitetet blev Werner Aspenström medlem av redaktionen för tidskriften 40-tal. Han debuterade 25 år gammal 1943, men fick sitt genombrott som lyriker först med diktsamlingen Skriket och tystnaden 1946.
Han blev med åren rikligt belönad för sitt författarskap, bland annat med Bellmanspriset 1959 och 1980, De Nios pris 1967, Litteraturfrämjandets stora pris 1969, Carl Emil Englund-priset 1984. Han utnämndes till fil. hedersdr i Stockholm 1976 och blev ledamot av Svenska Akademien 1980. Han var emellertid en av dem som ställde sin stol till förfogande i samband med Salman Rushdiekoflikten 1989. Han har publicerat ett tjugotal diktsamlingar, flera prosaböcker och även skrivit dramatik.
Janice D. Soderling has her writing base in Sweden but hails from the United States. Her poetry/ fiction/ translations have appeared in the print journals Malahat Review, Fiddlehead, Event, and Windsor Review,Glimmer Train Stories (first place winner), Beloit Poetry Journal. Work recently on-line: Centrifugal Eye, Literary Bohemian, Frostwriting, Hobble Creek Review, Prick of the Spindle, and soon forthcoming at JMWW, Innisfree Poetry Journal, Umbrella Journal, Soundzine, and Shit Creek Review.  Forthcoming in print at Blue Unicorn (US) and Anon (Scotland).